Taiwan You Good Food, with its professional R&D team, has acutely sensitive and penetrative analytical capabilities towards products. Its production automation and standardization, as well as its stringent compliance with ISO and HACCP standards, is consumers' guarantee for quality. Through on-going research & design, Taiwan You Good takes the lead in technology used for the cakes and pastries industry and turns itself into Taiwan's professional baking OEM provider with reputably the best quality and reputation alike.

Year 1998
Taiwan You Good Food was officially set up, with initial focus on producing 'traditional Chinese-style wedding cakes'.
Year 1999
Seeing that traditional wedding cakes are taking on a westernized spin, Taiwan You Good set up its factory in Changhua Coastal Industrial Park with automation production equipments and a transition devoted to cookies R&D and production.
Thanks to help and recognition from dear friends and the industry, Taiwan You Good made more than a smooth transition and advanced towards new heights.
Year 2001
Established excellent professional OEM collaboration model with customers.
Year 2002
Expanded its OEM service with releases of food ingredients (the fruit jam series), offering customers more diversified services.
Year 2005
In response to international changes in societal trends, R&D plans were underway for a series of cookies with natural, healthy ingredients.
Year 2007
In response to rising domestic and overseas business demands, the factory underwent duly expansion with 50-meter long automated production lines (measuring 700-Ping) to offer better service and mass production with upgraded quality and competitiveness.
Year 2009
Passed ISO22000 food security certification and HACCP danger analysis and critical control point certification.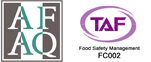 1. OEM Service:
Hand-Made Cookies, Regional Specialties, Goods for Large-Scaled Distribution Channels, Chinese & Western-Style Cakes & Pastries, Moon Festival Gift Packs, Wedding Engagement Cakes, Heat-Resistant Fruit Jam, Almond Puree, Hazelnut Paste, Fructose Syrup
2. OEM Procedure: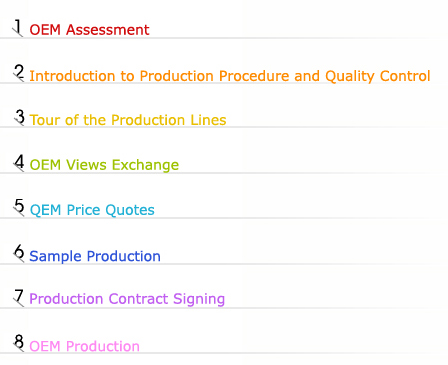 Taiwan You Good's management vision is based on trust and strives to offer quality service with satisfaction, with an aim to establish a high-quality service mechanism, where sustainable management can be made possible, to place equal weight on products and service in terms of quality guidelines, to proactively, sincerely, speedily, completely and satisfactorily resolve any customer-related problems, to build amicable interactive relationships, and to implement & ensure solid service quality.

With advanced baking craft, cakes & pastries are no longer merely cakes & pastries, but are deemed as companions for blissful happy times. Wherever the wedding bell tolls, Taiwan You Good will be there with you. Looking to the future, Taiwan You Good sees itself as a family happiness planner for all. Such is the future objective that Taiwan You Good is relentlessly striving towards.

During this period, Taiwan You Good has also come to the deep awareness of the necessity of bringing traditional cakes & pastries culture closer to the consumers and further earn their recognition, and intends to facilitate resource integration of the cakes & pastries sector into the culinary culture, promising to be the leading total-solution baking OEM service provider. Gradual expansion is also underway to establish Taiwan You Good as Taiwan's leading brand in the baking OEM sector.